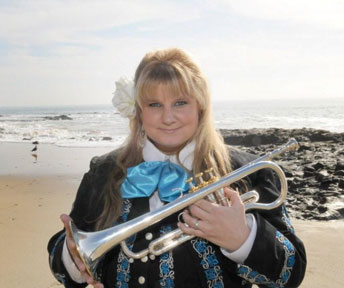 When the Mariachi Diva's take the stage, eyebrows usually rise and behind the whispers you here, "What is the blonde girl doing playing Mariachi music?" Cindy was eight years old and wanted to play the trumpet. Her parents provided lessons once a week for their daughter, but Cindy wanted more, so the entrepreneur started giving private lessons on her own to pay for her own advancements in music so she could study with the best studio musicians LA had to offer including: Ron Stout, Wayne Bergeron, Bobby Shew, Bill Bing, Kevin Brown, and Kevin Mayse. While studying music education at Cal State University at Fullerton, Cindy came upon an opportunity to play for Arturo Sandoval, and icon in the Latin Jazz arena. Impressed by her musical knowledge and raw talent, he offered Cindy a full paid scholarship to study Jazz at Florida International University where he would be her mentor and teacher.

The Mariachi DivasWhen Cindy returned to Los Angeles, she joined the band of Yari More and with his help Cindy soon became a regular in the LA Salsa scene. It was also through an invitation from Yari More that Cindy would perform at various venues including the House of Blues, LA & San Francisco Sports Arena, and the Playboy Jazz Festival at the Hollywood Bowl accompanying the legendary "Queen of Salsa" Celia Cruz. As Cindy made her name known in music circles another new challenge was waiting around the corner. Mariachi Los Alondras, an all female band, was looking for a trumpet player, and new it was, for she was forced to rely mostly on her ear, throw away her music stand, and transpose music on the spot. When Mariachi Las Anondras broke up in 1999, a core group of girls wanted to stay together and the Mariachi Divas was born.

Besides working to promote Mariachi Divas, cindy has continued to expand her own personal knowledge of Latin music. She has had the opportunity to tour throughout the United States and Mexico with the brass section of "El Rey del Jaripeo." Joan Sebastian and his son, Jose Manuel Figuroa. She has also appeared with such artists as Alejandro Sanz, Charlie Zaa, Paulina Rubio, Velasques and many others. Cindy's experience with different genres of music has allowed her to create her own style in the mariachi music scene that stands out from the rest. Cindy has seen her group through many challenges after eight years of existence, and is very proud of its multicultural, eclectic, and innovative style and sound. As the director of Mariachi Divas, she will continue to prove that music has no boundaries and is not dictated by age, race, or gender.