The Buzz Zone
The Definitive Text for the Brass Player
"The Buzz Zone: The Art of Playing Efficiently and Comfortably" is two books in one: a 150-page method book directed toward brass players and educators, and an exercise book focusing on the method defined in the forementioned. This is truly the definitive text for brass players. The Buzz Zone, simply put, teaches chops. The method and exercises are designed for players of any level who wish to increase their range, consistency, and longevity. The Buzz Zone is the culmination of Joe Marcinkiewicz's 40 years of trumpet playing experience.
Forward
I always enjoyed playing trumpet. From the very beginning, music was fun and the trumpet was my means of doing something I was good at. The success that followed was great, however, there was one very important question, in my mind, that needed answering. Isn't there an easier way to play? Deep down, I always knew that there had to be a better way but I didn't know where to find it.
In 1977, I attended a lecture given by Carmine Caruso that absolutely got my attention. I was overwhelmed. Mr. Caruso's method enlightened me so much that, at his recommendation, I contacted Mr. Bob Findley for lessons. A short time later, I was doing things musically that I has never done before. I realized that the answer to my question was, YES there is indeed an easier way to play the trumpet, and other brasswind instruments, with LESS EFFORT and LESS PAIN.
That same year I started teaching this new method. Now, after thirty seven consecutive years of teaching, I am expressing myself through this book, The Buzz Zone, a concept and method for understanding how the embouchure works and the related muscle groups. There is no longer any reason for any brasswind player, at any level, to continually struggle, year after year, with frustration and pain.
Table of Contents:
Acknowledgements
Dedication and Thanks
Forward
Preface
Introduction
About the Author
Glossary of Terms
Ch. 1 A Message to the Educators
Ch. 2 The Mouthpiece
Ch. 3 The Embouchure
Ch. 4 The Body Relationship
Ch. 5 Yasha... A Case Study
The Buzz Zone Exercises
The Five Basic Steps
The Art of Playing Efficiently and Comfortably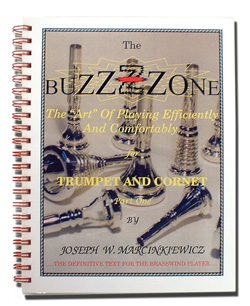 Call Marcinkiewicz to order your copy of The Buzz Zone for $34.95