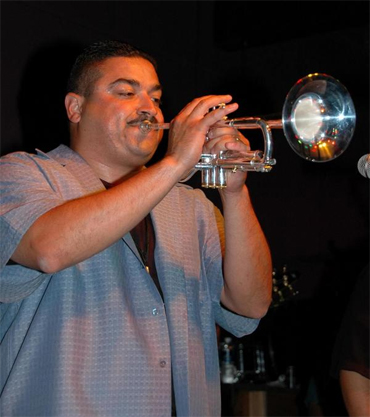 Born and raised in San Jose, California Robert has been playing the trumpet for over 33 years. Robert started his musical journey at the age of 9 playing in his elementary band, his junior high school band and his high school marching band, jazz band and musical play orchestra. At the age of 18, Robert auditioned and was chosen out of over 50 trumpet players from across the U.S.A., to become a member of the prestigious Santa Clara Vanguard Drum and Bugle Corp. He toured for 3 months, visiting 26 states playing in stadiums filled with over 30 thousand people.

Robert became a professional musician playing in his first band at the age of 18. Robert continued to play while being accepted to the Police Academy for the City of San Jose in 1992. Robert graduated in June of 1992 and now is a full time Police Officer for the City of San Jose. Robert has been a Police Officer for 17 years and during this has never stopped playing the trumpet. Robert is a member of the Police Honor Guard and has been called to do numerous dignitary events and funerals.

Although Robert works a 40 plus hour work week, he continues to play his trumpet as much as he can and has been fortunate to still play with various artists such as Lenny Williams (Tower of Power), Jorge Santana (Malo/Santana), Pete Escovedo, Steve Salas (lead singer of Tierra), Stevie Keys Roseman and Ross Valory (Journey) and Emanuel Rahiem (GQ). Robert has been fortunate to be called on stage to sit in with two time grammy award winner Little Joe y La Familia, Malo and Rummage Sale (former members of Tower of Power).

Robert is the founder and manager of the Bay Area 10 piece Latin Funk group, Tortilla Soup, which consists of former members from groups such as Tower of Power, Malo, Sly and The Family Stone, Lenny Williams, Pete Escovedo, Lydia Pense and Cold Blood.