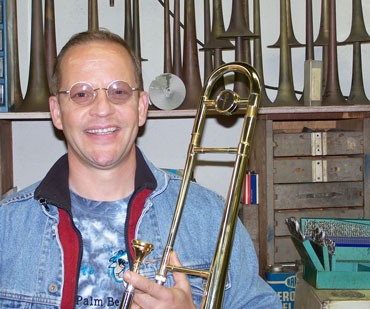 Rich Dahl has been a freelance trombonist for over 25 years and a music educator for 19 years. He has performed with numerous big bands in the greater Portland area and the Dallas/Fort Worth area and was the bass trombonist for the Black Hills Symphony Orchestra for 5 years. He has performed with numerous artists such as The Moody Blues, Tennessee Ernie Ford, Mic Gillette, Buddy Rich, Carl Fontana, Chris Vidala, and many other venues too many to list. Rich is currently a member of the 560th Washington Air Guard Band performing on trombone in the concert band and directing the "Jazz in Blue" big band.

Rich Dahl has been a student of Louis Maggio for over 25 years. Rich has always felt that the mouthpiece is the most important factor in a brass player's success on his instrument.

Whether it is playing lead trombone in a screamin' big band or bass bone in a symphony orchestra Rich uses Joe Marcinkiewicz mouthpieces exclusively!